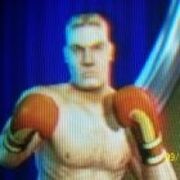 Wolfgang Peltzer is a boxer from Cologne, Germany. Peltzer fought in Europe for most of his career and only 3 times did some one go the distance with him. He was a KO king and a legend in Germany.
He was also an olympic German boxer and won gold medals for Germany. He started professional boxing in 1975, known for his fights he dedicated to justice to bring down the Berlin Wall and stop the divison of West and East Germany. He also participated in the tearing down of the Berlin Wall. He retired in 1991. After 4 years he made a comeback for 3 fights, winning all 3 by knockout. He finished his career with a record of 56 wins and 2 Losses.
Fighting Record: Wins: 56 (53 by KO) Losses: 2 Draws: 0 No Contest's: 0
Appearances
Edit
Ad blocker interference detected!
Wikia is a free-to-use site that makes money from advertising. We have a modified experience for viewers using ad blockers

Wikia is not accessible if you've made further modifications. Remove the custom ad blocker rule(s) and the page will load as expected.