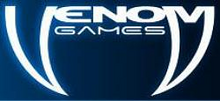 Venom Games was founded in January 2003 in the UK following the demise of Rage Software by members of the development team responsible for the 2002 Rocky video game. The studio was closed down in July 2008, along with PAM Development in Paris, as part of a move to wind down it's Western-European Development in favour of more cost-effective production sites in Eastern-Europe and Asia.
Games Developed:
Rocky Legends (2004) (PlayStation 2, Xbox)
Prey (2006) (port to Xbox 360)
Don King Presents: Prizefighter (2008) (Xbox 360)
Ad blocker interference detected!
Wikia is a free-to-use site that makes money from advertising. We have a modified experience for viewers using ad blockers

Wikia is not accessible if you've made further modifications. Remove the custom ad blocker rule(s) and the page will load as expected.