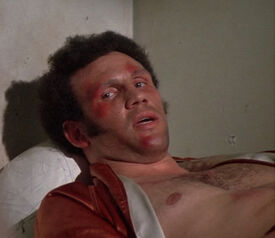 Spider Rico (Pedro Lovell) in the 1976 film Rocky
Spider Rico
Character information
Gender
Male
Born:
November 12, 1945
in San Juan, Puerto, Rico
Height:
5 ft 11 in (1.80 m) (on video game) 6 ft 3 in (1.91 m)
(Pedro Lovell's height)
Weight:
207 pounds (94 kg) (on video game)
210 pounds (95 kg) (Pedro Lovell's appx. weight)
Reach
72 inches (183 cm) (on video game)
78 inches (198 cm) (Lovell's reach)
Job/Career:

Boxer/Cook at Adrian's restaurant




Portrayed by:
Pedro Lovell in Rocky, 1976
Known Opponents:
Rocky Balboa (defeated by boxer)
"Hey, you really got lucky tonight"
– Spider Rico
Spider Rico (played by Pedro Lovell) was a Puerto Rican boxer that, as a Philadelphia-area club fighter in the film Rocky, fought Rocky Balboa (Sylvester Stallone) at the time, which would set the timeline at around 1976. Spider is the first opponent of Rocky's we see in the series. Spider made one attempt in pro boxing against unknown fighter Ken Thorton, Spider was able to pull off a majority decision win before his retirement. He is presented as a strong Christian character in the 2006 film Rocky Balboa, where he eats free at Rocky's restaurant "Adrian's", which he also works at as a dish washer to not be a free-loader. Rocky befriends and keeps him around out of the goodness of his heart.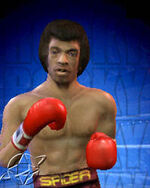 Customizations
Appearances
Ad blocker interference detected!
Wikia is a free-to-use site that makes money from advertising. We have a modified experience for viewers using ad blockers

Wikia is not accessible if you've made further modifications. Remove the custom ad blocker rule(s) and the page will load as expected.