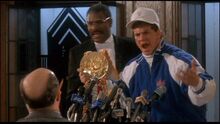 A Paper Champion is a boxing champion who is considered to be a false champion. Reasons for being called a Paper Champion are not defeating the former champion, not fighting challenging opponents or fighting very little. Union Cane and Tommy Gunn were considered to be Paper Champions in the 1990 film, Rocky V, since neither defeated the former heavyweight champion, Rocky Balboa. Mason Dixon in the 2006 film, Rocky Balboa, was also considered to be a paper champion for fighting unchallenging opponents.
Appearances
Ad blocker interference detected!
Wikia is a free-to-use site that makes money from advertising. We have a modified experience for viewers using ad blockers

Wikia is not accessible if you've made further modifications. Remove the custom ad blocker rule(s) and the page will load as expected.