Former Heavyweight boxer Michael Williams as Union Cane in Rocky V
Biographical information
Nicknames/Aliases:
Mike Williams
Born:
June 16, 1962
Birthplace:
Lafayette, Louisiana, U.S.
Height:
6 ft 2 in (1.88 m)
Weight:
230 pounds (104 kg)
Career information
Occupation:
Former professional boxer
Career Highlights:
Professional boxing record: 22-6-0, with 14 KO's
Family/Personal life
Character information
Character played:
Union Cane
Appears in:
Rocky V
Michael Williams (born June 16, 1962) appears as heavyweight boxing contender Union Cane in Rocky V. He is also a retired real life boxer, his career went from 1984-2000. His professional record is 22-6 (14 KO). He was born and raised in Lafayette, Louisiana.
Boxing career
Edit
Known as "Mercury," Williams turned pro in 1984 and was considered a rising prospect after winning his first 13 fights, including a win over James Tillis. In 1987 he stepped up and lost a split decision to former champion Tim Witherspoon. The following year he lost by TKO to Buster Douglas. In the 1990s he lost to other notable heavyweights Alex Garcia and Corrie Sanders, and retired in 2000 after a TKO loss to Lawrence Clay Bey, having won 22 and lost 6 with 14 KO.
Acting career
Edit
Williams portrayed fictional heavyweight champion of the world Union Cane in Rocky V. In the movie, he was soundly defeated in 1 round by Tommy Gunn.
Professional boxing record
Edit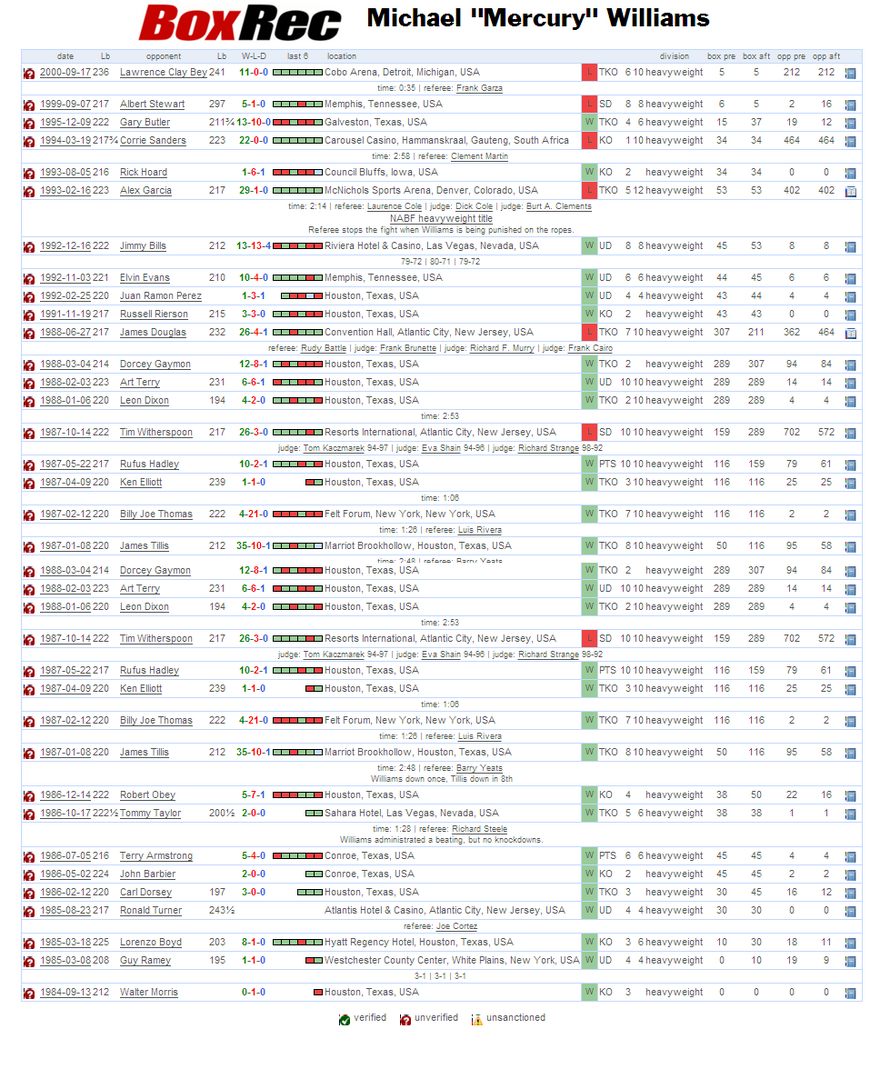 References
Edit
External links
Edit
Ad blocker interference detected!
Wikia is a free-to-use site that makes money from advertising. We have a modified experience for viewers using ad blockers

Wikia is not accessible if you've made further modifications. Remove the custom ad blocker rule(s) and the page will load as expected.