Come on, guys. We need more.


This article has been requested for expansion. See the relevant talk page for what the requestor wants to do.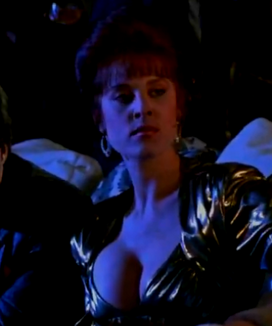 The bosomy Gloria was a gangster's-moll type assistant of shady boxing promoter George Washington Duke in Rocky V.
Karen
Character information
Gender
Female
Born:
February 12, 1972




in Copenhagen, Denmark
Height
5 ft 9 in (1.75 m)
Weight
135 pounds (61 kg)
Measurements
36"-26"-35"
Job/Career
Secretarial assistant, valet, moll, eye-candy




Portrayed by:
Delia Sheppard
The character of Karen appeared as a tall, beautiful, buxom redheaded gangster's moll-type assistant/eye candy for shady boxing promoter George Washington Duke, (Richard Gant) in Rocky V. The bosomy Karen's pulchritudinously sexy appearance, along Duke's overtures, were enough to persuade Tommy and when they kissed they married each other and decided that they were the perfect couple.
Ad blocker interference detected!
Wikia is a free-to-use site that makes money from advertising. We have a modified experience for viewers using ad blockers

Wikia is not accessible if you've made further modifications. Remove the custom ad blocker rule(s) and the page will load as expected.