Well we have to change sometimes...


This article needs to be updated with Rocky: Legends. If you have Rocky: Legends, please update it with the correct information.
"I must break you."

―Ivan Drago to Rocky Balboa
Ivan Drago (Dolph Lundgren) in publicity shot in Rocky IV
Ivan Drago[1]
Character information
Gender
Male[1]
Born:
November 3, 1961
in Moscow, Russia
Height:
6 ft 7 in (2.01 m)
Weight:
268 pounds (122 kg)
Reach
80 inches (203.2 cm)
Job/Career:

Boxer, Soviet Army infantry Captain[1]




Portrayed by:
Dolph Lundgren[1]
Known Opponents:
Sporto McJockitch[2](Non-canonical boxer)
Ivan Drago is the main antagonist in Rocky IV. He was an amateur boxer and Olympic gold medalist from the Soviet Union armed with a punch over 2,000 psi. Although he was able to easily defeat and kill Rocky Balboa's friend and later trainer, Apollo Creed, he was not able to defeat Rocky.
The Soviet Union was extremly arrogant of Drago's abilities, however, Drago never really bragged about it. His wife, Ludmilla Drago, spoke for him almost every time. He was given several names, such as the Siberian Bull, the Siberian Express, and even Death from Above, referring to Drago's height and Apollo's death at the hands of Drago.
Boxing Style
Edit
Drago's style was based on pure strength and mental resilience. He was vicious and relentless, not stopping until he finished an opponent. He was extremely determined in battle, capable of outworking any opponent. Drago was also incredibly strong, a single punch weighing over two thousand pounds, hence the expression that whatever he hits he destroys. Ivan Drago also showed surprising agility for his size, shown how he easily avoids the attacks of Apollo Creed.
Biography
Edit
"I...cannot be defeated!"

―Ivan Drago

Born in 1961, Drago was trained by only the best of the Soviet Union. He used several updated methods of technology to train, and used anabolic steroids as well. He had his own personal training quarter, which included several types of machines and steroids to help him train against both Apollo Creed and Rocky Balboa.[1]
Ivan Drago's history is clearly seen in Rocky Legends if the player chooses the path of Drago. In the first scene, his (not yet) main trainer and the political adviser (more like scouts) are seen warming themselves up, likely to pick a boxer out of upcoming soldiers from the USSR Army. Drago is chosen to fight a man called Belek, and Drago is seen fighting in army trunks. Beating Belek, the scouts become his trainers he then trained in Soviet Russia, he defeated every other Soviet Boxer. He married Ludmilla Drago at an unknown time. His wife was a double Olympic gold-medalist in swimming.[1]
His Soviet trainers were convinced that he would beat any boxer. They flew to America, convinced that they would win against Rocky Balboa and any other American boxer. After an interview with the Americans, they decided to enter professional boxing.[1]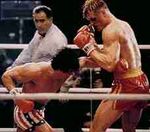 Rocky IV
Edit
Apollo Creed, 42 years old now, came out of retirement after five years to challenge him to an exhibition match, and was promoted by Rocky Balboa. Drago (24 years old) so overpowered Creed that he killed him after landing a barrage of punches to his head in the second round. To avenge Creed's death, Balboa, who was the reigning heavyweight champion at the time, decided he would travel to Russia to fight Drago. The fight, dubbed an exhibition match as it was unsanctioned by any professional boxing body, effectively cost Balboa his title as he had to vacate it in order to fight Drago. Once in the Soviet Union, Rocky stayed and trained at a farm with the most basic of amenities and using sparten training methods such as chopping wood and hauling logs; by contrast, Drago trains in the most ultramodern of facilities and is being monitored very closely for progress in physical strength. It is also implied that he's being injected with anabolic steroids.
The fight started out in Drago's lead, but Rocky managed to land a hard punch which would cut the Russian's eye in the second round. Then war was on as both men found out they were evenly matched. It wasn't about strategy or technique, just who wanted it more. The fight went neutral, but then started edging toward Rocky's victory. The fans, who started on Drago's side, slowly were converted to Rocky fans and at the end of the match, Drago was defeated by knockout in the last round.
Events after Rocky IV
Edit
According to Rocky: The Ultimate Guide, Ivan Drago wasn't permitted to resume his boxing career after his loss to Rocky Balboa because of the special circumstance that he could not officially turn pro in the USSR. Ivan Drago turned professional after the fall of the Soviet Union and accumulated an impressive 31-0 (31 KO) record while also winning a portion of the Heavyweight title. He never unified the title or fought the very top contenders (as a pro) because of promotional politics. It is possible that Drago defeated Tommy Gunn for the Heavyweight Championship (timewise, Tommy was the Champion as of 1988 and the Soviet Union fell in 1991). Drago seems to have retired the Champion. The Heavyweight title may have gone to Mason Dixon's unnamed opponent. His only defeat as a pro or an amateur fighter was at the hands of Rocky Balboa.
Fighting Crime
Edit
---
---
"It is time to restore order to this society!"

After the match, Drago was locked up in the Soviet Embassy for years. Gorbachev, knowing of Drago's power, released him into the streets of the United States after briefing Drago on his mission. Drago was attacked by several people. Sporto McJockitch attacked first, some of them followed by their girlfriends, who did no damage. Ivan defeated these, only to be met by Stabby Jenkins, a short man with a dagger. He killed these and moved on.[2]

Next, he met someone unusual—Segway Jerkwad. Segway was a cyborg (presumably), he had a wheel attached where his legs and feet were supposed to be. Segway attacked immediately, but Drago was able to defeat the cyborg. Then he met another unusual sight, a cowboy. The cowboy tried really hard with his willy to strangle him, but Drago was able to defeat him, too. [2]
Next came Pauly's Robot, another machine, that did not attack. Drago destroyed the robot as well. After that, Mafioso Alfredo, a man dressed in black with a small pistol, attacked. Drago dodged all the bullets he could and killed Alfredo.[2] . He also met Serial mom whom the criminals used to fool
Drago but to no avail and he in disgust killed her and the baby was a doll filled with blood which did not fool Drago at all.
Then came Herbert the Dinosaur, a Tyrannosaurus Rex. The T-Rex used all its might to kill Drago, but in the end, Drago defeated it. He then fought several more of the criminals before entering Mighty Mick's Gym. Drago fought a cyborg of Apollo Creed and eventually Rocky Balboa, who was confined to a wheelchair.[2]
---
Non-canon information ends here.
---
Personality and Traits
Edit
"I fight for me! FOR ME!"

―Ivan Drago

Unlike the opponent from the previous movie, Clubber Lang, Drago is a man of few words. In the movie, his wife always speaks for him during interviews. He is a sadistic, psychopathic individual who hates being treated like an object of somebody else's intentions. He seems to be a very pitiless and cold-hearted person as shown when he comments on Apollo's death: "If he dies, he dies". Drago also is remembered for saying "I must break you" to Rocky Balboa immediately before the match begins. Drago seems to be fighting for his country but near the end of his fight with Rocky, his promoter—a Soviet official—insults him, prompting Drago to throw him off the ring and proclaim that he fights for himself.[1]
His trainers included Manuel Vega and Sergei Rimsky, along with his promoter Nicoli Koloff. While Rimsky and Vega did most of the work, Koloff did most of the talking.[1]
"There are rumors of widespread distrubution of anabolic steroids throughout the Soviet Union. Has Drago partaken in any of these?"

―An American interviewer to Ludmilla Drago
Drago received an injection of anabolic steroids during a training scene.(He is not human, he is a piece of iron) The steroids were also featured in the online game Ivan Drago: Justice Enforcer. Although noncanon, Ivan Drago: Justice Enforcer identifies the steroids as Vodka and other famous drugs and steroids. Please note this is noncanon.[2]
Behind the scenes
Edit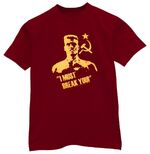 Drago's line, I must break you, has become so popular among fans that they have created a T-shirt featuring Drago and the line below it.
Drago was fighting for the Soviet Union, but later, he reveals he is fighting for himself.
2,000 psi is more powerful than the discharge of a shotgun at close range.
Customizations
Edit
Rocky: Legends
Edit
Ivan Drago's history is clearly seen in Rocky Legends if the player chooses the path of Drago. In the first scene, his (not yet) main trainer and the political adviser (more like scouts) are seen warming themselves up, likely to pick a boxer out of upcoming soldiers from the USSR Army. Drago is chosen to fight a man called Belek, and Drago is seen fighting in army trunks. Beating Belek, the scouts become his trainers, showing him his training quarter. Then Drago fights his way through many fighters, thus reaching Rocky Balboa.
Appearances
Edit
References
Edit