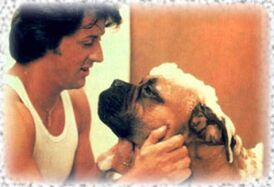 '''''
Butkus
Character information
Alias/Nicknames
Butkus the dog
Gender
Male dog (Bull Mastiff)
Born:
1972
Birthplace:
Philadelphia, PA, U.S.
Died:
1979












Butkus was a fawn colored Bullmastiff.
Biography
Edit
Butkus's role in Rocky (1976) and Rocky II Edit
He lived inside a cage, he was up for sale at J&M Tropical Fish. Rocky is shown to really love Butkus and really would love to have him. As he would usually say "hi" to Butkus and make animal noises with Butkus. Butkus was later a Christmas gift from Adrian to Rocky to keep him company while he trained for the Heavyweight Championship of the World. Rocky and Butkus are then seen running down the street to the meat plant where Paulie works. Rocky notices a news truck outside the plant. Rocky being curious leaves Butkus outside to wait while he goes inside to inspect. After that Butkus is not seen for the rest of the flim. 
In Rocky II, Butkus is seen once again still being Rocky's pet. He is first seen in Rocky's old apartment along with Adrian just after they got married. Rocky tells Butkus to move as him and Adrian wanted to lay down after a long walk downtown. He is seen often another in other parts with Rocky giving Butkus a bath and him petting Butkus. Rocky talks to Adrian about Butkus in one scene about Butkus being different and not looking like your average dog like there's something special about Butkus. After that Butkus is once again not seen for the rest of the flim or any more of the sequels.
In Rocky III and the rest of the sequels, Butkus for some reason is never seen again or mentioned. In Rocky Balboa, the final installment Butkus is still not seen but a dog that replaces Butkus is adopted by Rocky and Steps. The dog's name is Punchy he is seen running with Rocky to keep him company much like Butkus did. Punchy like Butkus is not mentioned or seen for the rest of the movie after Rocky's training with him.  
Appearances
Edit
Ad blocker interference detected!
Wikia is a free-to-use site that makes money from advertising. We have a modified experience for viewers using ad blockers

Wikia is not accessible if you've made further modifications. Remove the custom ad blocker rule(s) and the page will load as expected.