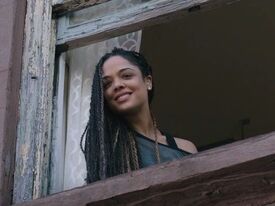 Bianca (Tessa Thompson) looking out the window.

Bianca is the neighbour and later girlfriend of Adonis "Donnie" Creed. She and Donnie first met up after she was blasting music loudly down stairs while Donnie was trying to sleep. Donnie knocks on her door to tell her to low the music down so he can get up early to train. She is an up and coming singer. She suffers from progressive hearing loss and uses a hearing aid. She might go completely deaf at one point, and is learning sign language just in case.
Ad blocker interference detected!
Wikia is a free-to-use site that makes money from advertising. We have a modified experience for viewers using ad blockers

Wikia is not accessible if you've made further modifications. Remove the custom ad blocker rule(s) and the page will load as expected.