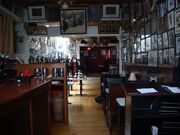 Structure information
Builder(s)
Type of structure

Restaraunt
I've seen your picture in the paper!


This article would greatly benefit from the addition of an image or two. See the image request page for more pages that need this.
Adrian's was a restaurant opened by Rocky Balboa following his wife's death. Spider Rico was a cook there. Little Marie worked there part time filling in for the woman who works at the door who was on a maternity leave.
Here was where Rocky watched the fight simulation and where Mason "The Line" Dixon's manager offered Rocky the proposal to go 10 rounds with the current champion Mason Dixon.
Adonis Johnson Creed, Apollo Creed's son made an appearance in the restaurant where he met Rocky and asked him to help manage and train him.
Appearances
Ad blocker interference detected!
Wikia is a free-to-use site that makes money from advertising. We have a modified experience for viewers using ad blockers

Wikia is not accessible if you've made further modifications. Remove the custom ad blocker rule(s) and the page will load as expected.